Testaments from Satisfied Customers
Testament No.1: from Lisette and Laurie Stevens - Wednesday, July 21st, 2010

When one chooses to build a home in a forest environment – which is the most common habitat in Dominica – it is prudent to choose the most tough and sturdy materials to offset the ravages that Mother Nature throws at us. Whether it be the heat of the sun or the excessive rainfall or dampness in general the right choice has to be made especially for windows, doors and roofs.

This article concerns our choice of windows for a smart house in the Layou Valley. We had considered exotic timber and aluminum window frames, but both of us had experienced problems with these concerning general maintenance and decay when we built in the UK.

So it was like a life saver when Dragon Windows came on the scene in Dominica in 2006 and Dragon UPVC Windows has set the benchmark for quality products since then. We have had these windows for four years. The advantages of these windows are many: They are easy to clean; the windows open right out to the same size as the window opening; they have built in screens which are extremely affective, especially as living in the forest it's not uncommon to get hordes of flying wood ants that like to take to the air sometimes after heavy rains. You don't have to close the windows just pull the screens down.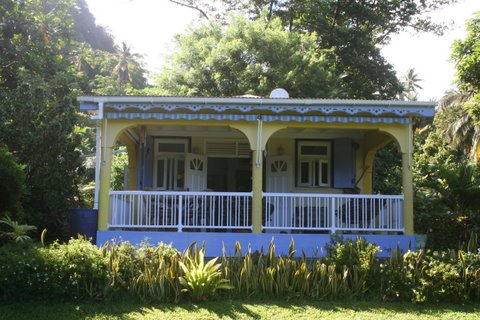 We have a top window section within the main window frame which has a net fitted and is refreshing to have opened at night.

One of the best things about the windows being fitted into our home is the fact that we have absolutely no dampness in the building at all. We notice going to other peoples' homes in our area of Layou and Pont Casse that do not have Dragon UPVC windows fitted; these houses have a lot of damp and mildew, especially in the closets that they keep their clothes in. We do not have this unhealthy problem.

Another big plus for Dragon is that we never need to paint the windows; they keep clean just by being wiped with a damp cloth. Even the daily help take great pride in keeping the windows just like new.

We are now getting custom made Dragon UPVC railings and a gate for our deck. Previously, we had wooden railings fitted when we built our home in 2006 – big mistake – the railings are now completely rotten. We know from our experience with the windows that we do not have any problems with any rotting or deterioration; obviously this will be the same with the railings.

We find the staff competent, helpful and friendly. The company does its utmost to give quality service and support for its quality product.

Testament No. 2: from Father C. Marcellus Auguiste in January 2012

There is a marked difference between something being "cheap" as opposed to being "inexpensive." Colloquially "cheap" connotes inferiority, while "inexpensive" describes affordability. Having defined the two I'd like to proudly associate myself, and former parish of Our Lady of La Soie, with Dragon Windows for their inexpensive qualitative products handle with professionalism, meticulous for details while treating customers with deep respect, and a personal touch.

We have been their customers from inception and would unflinchingly recommend their products and services, our beautifully churches can attest.
Congratulations Dragon Windows as you celebrate your tenth anniversary and may the Lord bless Dragon Windows as you help contribute to the aesthetic beauty of the Nature Island and serve our people with pride and dignity.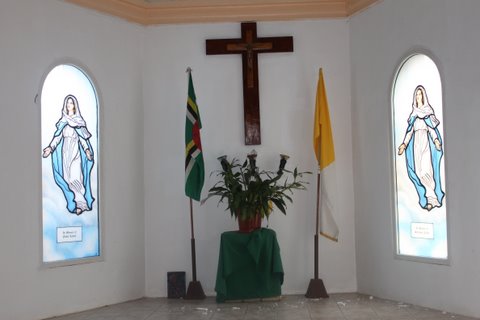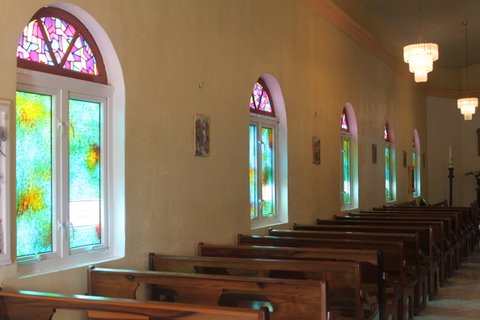 What others are saying about Dragon uPVC products
Well priced and very good quality…

The house is secure and is lighted up…

I'd definitely recommend it to anyone…

The room is cooler now, because the windows are perfectly sealed to keep AC in…

I'm very pleased with the products and service from Dragon…

My builder has started to fit the windows and they are causing quite a stir. Everyone says how good they look…
Our product has been installed at homes and business places all over the Caribbean including the following business places in Dominica:
| | |
| --- | --- |
| A I D Bank | First Domestic Insurance Co., Ltd |
| All Saints University School of Medicine | Government Headquarters |
| Anchorage Hotel | Griffon Bank |
| Astaphan Supermarket in Roseau | National Bank of Dominica |
| Auto Trade Ltd | National Children's House |
| British American Insurance Co., Ltd | National E-Business Incubator |
| Bulls Eye Pharmacy | New Charles Pharmacy |
| Cable & Wireless Offices | President's Office |
| Depex Colour Lab | Prime Minister's Office |
| Dominica Air& Sea Ports Authority | Roseau Co-operative Credit Union Ltd |
| DOMLEC Offices at Fond Cole | Ross University |
| E H Charles & Co., Ltd Warehouse | Royal Bank of Canada |
| Financial Services Unit | Hewanorra House in St. Lucia |
| First Caribbean International Bank | A. C. Shillingford Co. Supermarket |
| H. H. V. Whitchurch Supermarket | Stephens & Sons Ltd. |

Copyright © 2009 Dragon Windows- All rights reserved.
Fond Cole Industrial Site, The Commonwealth Of Dominica W.I.
Phone: 767-448-0253 Fax: 767-440-1310